Home » Posts tagged 'Web search engine'
Tag Archives:
Web search engine
A highly optimized blog post or web content can get you a lot of attention just like Rebecca Black's video (provided it passes through the new quality metrics \change*/ in the Search Engine)
But if the underlying content is weak, or based on a shoddy understanding of the content-it can drive lots of horrid comments as well as ensuring that bad word of mouth is spread about the content or you/despite your hard work.
An example of this is copy and paste journalism especially in technology circles, where even a bigger Page Ranked website /blog can get away with scraping or stealing content from a lower page ranked website (or many websites)  after adding a cursory "expert comment". This is also true when someone who is basically a corporate communication specialist (or PR -public relations) person is given a techinical text and encourage to write about it without completely understanding it.
A mild technical defect in the search engine algorithm is that it does not seem to pay attention to when the content was published, so the copying website or blog actually can get by as fresher content even if it is practically has 90% of the same words). The second flaw is over punishment or manual punishment of excessive linking – this can encourage search optimization minded people to hoard links or discourage trackbacks.
A free internet is one which promotes free sharing of content and does not encourage stealing or un-authorized scraping or content copying. Unfortunately current search engine optimization can encourage scraping and content copying without paying too much attention to origin of the words.
In addition the analytical rigor by which search algorithms search your inboxes (as in search all emails for a keyword) or media rich sites (like Youtube) are quite on a different level of quality altogether. The chances of garbage results are much more while searching for media content and/or emails.
Is poetry when randomized
Tweaked, meta tagged , search engine optimized
Violative of unseen terms and conditional clauses
Is random poetry or aggregated prose farmed for click fraud uses
I dont know, you tell me, says the blog boy,
Tapping away at the keyboard like a shiny new toy,
Geeks unfortunately too often are men too many,
Forgive the generalization, but the tech world is yet to be equalized.
If a New York Hot Dog  is a slice of heaven at four bucks a piece
Then why is prose and poetry at five bucks an hour considered waste
Ah I see, you have grown old and cynical,
Of the numerous stupid internet capers and cyber ways
The clicking finger clicks on
swiftly but mostly delightfully virally moves on
While people collect its trails and
ponder its aggregated merry ways
All people are equal but all links are not,
Thus overturning two centuries of psychology had you been better taught,
But you chose to drop out of school, and create that search engine so big
It is now a fraud catchers head ache that millions try to search engine optimize and rig
Once again, people are different, in so many ways so prettier
Links are the same hyper linked code number five or earlier
People think like artificial artificial (thus natural) neural nets
Biochemically enhanced Harmonically possessed.
rather than  analyze forensically and quite creepily
where people have been
Gentic Algorithms need some chaos
To see what till now hasnt been seen.
Again this was a random poem,
inspired by a random link that someone clicked
To get here, on a carbon burning cyber machine,
Having digested poem, moves on, unheard , unseen.
Related Articles
(Inspired by the Hyper Link at http://goo.gl/a8ijW )
Also-
Using WP- Stats I set about answering this question-
What search keywords lead here-
Clearly Michael Jackson is down this year
And R GUI, Data Mining is up.
How does that affect my writing- given I get almost 250 visitors by search engines alone daily- assume I write nothing on this blog from now on.
It doesnt- I still write what ever code or poem that comes to my mind. So it is hurtful people misunderstimate the effort in writing and jump to conclusions (esp if I write about a company- I am not on payroll of that company- just like if  I write about a poem- I am not a full time poet)
Over to xkcd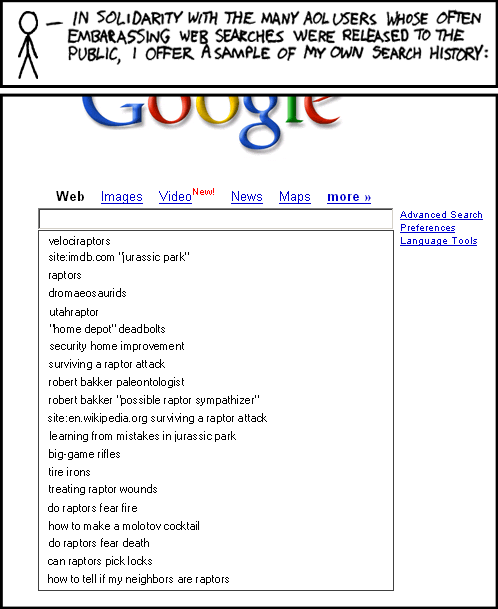 All Time (for Decisionstats.Wordpress.com)
| Search | Views |
| --- | --- |
| libre office | 818 |
| facebook analytics | 806 |
| michael jackson history | 240 |
| wps sas lawsuit | 180 |
| r gui | 168 |
| wps sas | 154 |
| wordle.net | 118 |
| sas wps | 116 |
| decision stats | 110 |
| sas wps lawsuit | 100 |
| google maps jet ski | 94 |
| data mining | 88 |
| doug savage | 72 |
| hive tutorial | 63 |
| spss certification | 63 |
| hadley wickham | 63 |
| google maps jetski | 62 |
| sas sues wps | 60 |
| decisionstats | 58 |
| donald farmer microsoft | 45 |
| libreoffice | 44 |
| wps statistics | 44 |
| best statistics software | 42 |
| r gui ubuntu | 41 |
| rstat | 37 |
| tamilnadu advanced technical training institute tatti | 37 |
YTD
2009-11-24 to Today
| Search | Views |
| --- | --- |
| libre office | 818 |
| facebook analytics | 781 |
| wps sas lawsuit | 170 |
| r gui | 164 |
| wps sas | 125 |
| wordle.net | 118 |
| sas wps | 101 |
| sas wps lawsuit | 95 |
| google maps jet ski | 94 |
| data mining | 86 |
| decision stats | 82 |
| doug savage | 63 |
| hadley wickham | 63 |
| google maps jetski | 62 |
| hive tutorial | 56 |
| donald farmer microsoft | 45 |
Related Articles